WALKING BEHIND THE BADGE- THE CHRISTIAN POLICEMAN
by CharlesRobey
(Trussville, AL USA)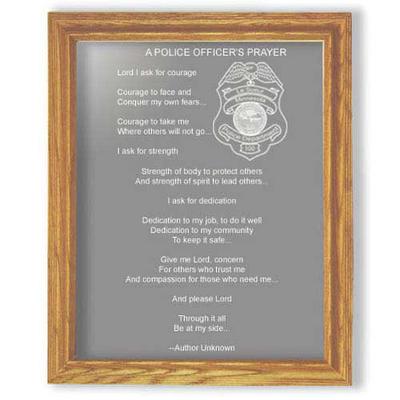 "Let every person be subject to the governing authorities. For there is no authority except from God, and those that exist have been instituted by God. Therefore whoever resists the authorities resists what God has appointed, and those who resist will incur judgment. For rulers are not a terror to good conduct, but too bad. Would you have no fear of the one who is in authority? Then do what is good, and you will receive his approval, for he is God's servant for your good. But if you do wrong, be afraid, for he does not bear the sword in vain. For he is the servant of God, an avenger who carries out God's wrath on the wrongdoer. Therefore one must be in subjection, not only to avoid God's wrath but also for the sake of conscience."(Romans 13:1-14).

If you are a TV nut, as I am, you have probably scanned across the hit police drama "Blue Bloods". The story takes place in New York City, and is based on a white Irish catholic middle class family, steeped deep in police tradition. Having had 40 years plus law enforcement experience, I have come to rate the show as one of the best police action productions.

So, what do you think of today's "COP" on the street ? Has law enforcement changed ? If so, how ?

One need only read the local newspaper, tune in the nightly TV newscast, surf the internet, or even talk to a neighbor across the fence, to see the current negative mind-set against the local law enforcement officer. This should not be, as I feel very strongly that this particular profession is ordained by God.

A bit of history. In the Middle Ages, the highest ranking official of a Royal House Hold or Court was known as a Constable. Then, as time progressed and the police field became more localized within the common community, the isolated Royal Constable became known as the Constable on Patrol, or C.O.P for short. Thus, the slang aberration of, "here comes the COP", which is now short referring to the police.

Realizing times have changed. And so has the enforcement concept. The early day crude and simple law enforcement officer has by nature, become more detailed and complex in this new demanding society. Today's law enforcement officer must serve the community by taking on the legal schizophrenic split personality of legal aid, information clerk, minister, or even a psychiatrist.

"And I heard the voice of the Lord saying, "Whom shall I send, and who will go for us?" Then I said, "Here am I! Send me."(Isaiah 6:8)

Have you ever ask the COP on the street, "Why he or she wanted to be a professional law enforcement officer in the first place"? There is probably no one reason why anybody does anything. Instead there is a combination of reasons, and these reasons are often times not clear. One may have been interest in adventure and excitement or may have had a childhood dream. Whereas another simply knew some person who had been in a particular career and seemed to like this particular person. Or perhaps, it just happened. It doesn't matter so much why one choose the law enforcement profession, as it does what you do with it and how you handle it.

There are special strains, which the job brings, by virtue of being in a fish bowl. Everybody has an eye on a law enforcement professional. Just because their father is on the force, people want to see whether the office's children are well behaved and don't break the laws, but they also keep an eye on the children of ministers, so law enforcement is in good company.

"Though I walk in the midst of trouble, you preserve my life; you stretch out your hand against the wrath of my enemies, and your right hand delivers me".(Psalm 138:7)

As an officer, one works in an emotional climate. Situations arise every minute that can make for anger. Law enforcement must learn to return to normal quickly so as to not take it out on the next citizen who comes along. They must keep their temper even when others are losing theirs. Such is a day's work.

Occasionally, you are required to face danger. Some officers worry about the fact that they are afraid. All men have certain fears, but some do a better job of concealing them than others. Some may ever brag to cover up such fears, but we all learn early in life to be suspicious of the individual who does out of the way to show their fellow officer how brave they are. The best remedy for fear is to know in advance exactly what to do and how to react, if and when trouble develops. The more you know what to do, the better you can handle a potential dangerous situation when the time comes, whether it is handling a serious traffic accident, a violent mentally deranged person or a domestic dilemma.

Like a muddied spring or a polluted fountain is a righteous man who gives way before the wicked". (Proverbs 25:26)

Many people have certain prejudices. As a law enforcement officer, you may have some as well. Your prejudice may be against certain groups who are different than you, but your feelings must not get in the way of doing your duty.

The public respects the helpfulness of law enforcement professionals, but as part of the job, one sometimes has to do unpopular things. In America, we all feel sorry for the underdog. When an officer at a football game tries to catch a youngster, who has climbed the fence, everybody cheers for the kid and will attempt to hide him.

"The wicked flee when no one pursues, but the righteous are bold as a lion".(Proverbs 28:1)

Officers may have an inner conflict, from time to time. After all, they are just like any other individual and may be tempted to break some of the vary laws they enforce. However, because the officer represents the law they are expected to obey the laws at all times.

"Beloved, never avenge yourselves, but leave it to the wrath of God, for it is written, "Vengeance is mine, I will repay, says the Lord." (Romans 12:9)

One of the outstanding things about the law enforcement job is the power that is held over the general public. This power may lead in the direction of liking to make people suffer. Sometimes this is no more than bawling someone out but this can be very frightening to the person who is on the receiving end. Some officers, often without realizing it, enjoy this sort if behavior. Some officers, by their mannerisms, force individuals who have been arrested into action that is dangerous.

"Do not be anxious about anything, but in everything by prayer and supplication with thanksgiving let your requests be made known to God. And the peace of God, which surpasses all understanding, will guard your hearts and your minds in Christ Jesus."(Philippians 4:6-7)

Yes, police officers have a very difficult job which brings about a tremendous amount of stress and strain daily. Yes, they do live in a fish bowl and are continuously forced into an emotional climate, sudden danger, and certain preconceived prejudices. They must be dedicated to their profession and all it has stood for, down through the ages.

"For I know the plans I have for you, declares the Lord, plans for welfare and not for evil, to give you a future and a hope. Then you will call upon me and come and pray to me, and I will hear you. You will seek me and find me, when you seek me with all your heart." (Jeremiah 29:11-13)

When one is where God wants them, and this dedication is accomplished, one will lead a rewarding life being in the "Will of God". So, next time you come across your local "COP", reach out and lead a friendly hand shake of approval. You may even elect to pay for their coffee and donut. After all, they are human too.