WALKING THE WALK-TALKING THE TALK
by CharlesRobey
(Trussville, AL USA)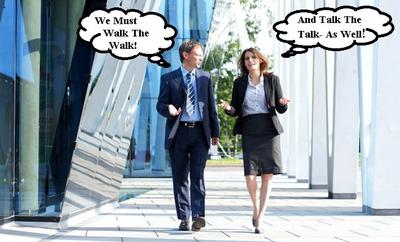 He has made it clear to you, mortal man, what is good and what the LORD is requiring from you, to act with justice, to treasure the LORD's gracious love, and to walk humbly in the company of your God." (Micah 6:8)

These new shoes are killing me. I'm sorry but they just don't fit well. I can't walk the normal walk. And they are causing my feet such discomfort that my talk is even a bit disconcerting. I decided to give the shoe store a call before I even try walking in them. So I did and the store was very helpful to my concern as they agreed to take them back.

Now, I'll just read a little while, then retire for the night. The reading must have made me sleepy, as I don't remember putting the book down. What I do remember, however, is the most unusual dream of my lifetime. It positively and without a doubt drove home a vital point in my life.

I found myself in the middle of a circular room, encircled by mirrors. As I began walking around this room, I could see myself from all sides...from front, from rear, and from side to side. What an experience this was, seeing the real me from all angles! What does this actually mean in the overall scheme of my life?

Well, I would not have understood or figured it all out if it had not been for a most unusual character who suddenly appeared in the room. What was so extraordinarily odd was that this bizarre character's reflection did not appear in any of the mirrors.

"Who are you?" I asked.

He merely replied by asking me to call him "The Helper." This was so bizarre. Mr. Helper seemed to read my mind. His very first statement was, "I see that you are confused, that you are wondering where you are and what's going on," he said.

"That's for sure," I responded rather loudly as he asked me to take a walk around the room.

"What do you see?" he asked.

"Well, nothing. Just me. And by the way, I never thought that I walked so wobbly."

Taking out an old tattered Bible from beneath his shirttail, this strange man got ready to drive home a certain Bible truth. His silence seemed to give out a peaceful stillness that I had never experienced before, as he pointed his finger toward me and said, "You must walk the walk and talk the talk."

"You see, the reason that you seemed to be walking unsteadily is that as you were walking around the room, you saw yourself as cutting moral and spiritual corners. You now see that fact by the many mirrors. You can oftentimes fool yourself, but when you do you are actually running away from the truth, the truth of Bible integrity. Mirrors don't lie. Let me define Bible integrity for you."

"Bible integrity is the quality of being honest and having strong moral and spiritual principles. Synonyms include such traits as found in (Galatians 5:22-23). Your problem, though sad to point it out, has been that you have been trusting in the deeds of the flesh." (Galatians 5:19-21) All of these good spiritual virtues are consistent with a Christian lifestyle, not so with the works of the flesh. So how does this definition stack up with your character?" he asked.

"Not very well, I must confess," I answered. "Is this moral point the reason for all the mirrors?"

Mr. Comforter failed to answer, but just opened his Bible and commenced to read from (Psalm 139:1-2, 23-24). Mr. Comforter then continued reading in the Scripture, as if to drive home a point. (Proverbs 11:3) (Proverbs 12:22)

"Wow, did He know the Scripture!" I thought.

The Comforter then concluded his Bible reading by asking me to take moral and spiritual inventory of myself, to basically be truthful and hold myself accountable for my failures. Like seeing my complete image in the many mirrors, I must fix my mind on the image of God from every angle (Galatians 5:16-18) and always obey (Galatians 5:25-26).

"Stop, stop, I get the point now. I know now that I must not only "Walk the Walk" but "Talk the Talk." I must be ruthlessly and brutally honest with myself. I must stop justifying what I know to be wrong. I must keep good company (1 Cor 15:33) and talk more with my Lord," (Psalm 27:8) I answered.

Mr. Comfort then responded, "You must start by being a good participant of God's Word (2 Timothy 3:16), and a faithful church attendee. (1 Cor 4:2) You will never go anywhere in your spirituality if you don't start with the truth as you see yourself in these many mirrors. (Titus 1:2) See yourself in the character of God." (Deut 7:9)

"And most of all, don't get discouraged and stop Walking the Walk and Talking the Talk." (Hab. 3:17-18) Mr. Comfort then suddenly left in like manner as he had arrived.

"Wow, what a knockout of a dream! What now? Why am I just sitting here on the side of my bed, trying on my new shoes? Strangely enough, as I walked around the room my new shoes fit perfectly. I must call the shoe store. I must an apology. It wasn't the shoe soles, it was my very soul that needed fixing. (1 John 1:8-9)

And to complete the moral principle of my dream, I was directed to my bedside table, There was Mom's old tattered Bible opened to (John 14:26), which read,

"But the Helper, the Holy Spirit, whom the Father will send in My name, He will teach you all things, and bring to your remembrance all that I said to you."

Now I see just why this godly character was named The Helper. No secret now. Also tucked away in the pages of Mom's old Bible was this poem written by Mom, apparently shortly before being carried away to Glory Land.

Mirror, Mirror, On that big wall
Who's the greatest of them all
As I walk up and down this room
I see myself clearly I presume
Why am I not walking a straight path?
Is it the new shoes that I now hath?
Could it be something else indeed,
Maybe God's Word I failed to heed
Do I need come on bended knee
And to my God now make my plea?
I'll now simply come to Him to see
How by His grace He set me free
I then looked up to Mount Calvary
Where on the cross He died for me
It is finished, He did shout that day
It was for my sins that He did pay
By faith in Him, I now plan to stay
Walking now in that Hallelujah way

It's just amazingly incredible. What divine communication with God, knowing my dream in advance, as Mom did, giving me the Gospel as she did. I still have that dear poem, tucked away in my Bible, as a reminder of those tears of redeeming love. I can't wait until next Sunday. I will surely be in the front pew, shouting "Amen and Hallelujah." Thanks, Mom!

Author's Postscript

We've all been there and done that, in deep sleep caught up in a dream movie drama. Some dreams were not remembered, while others seemed to linger in perpetuity. Maybe the dream left you in a cold sweat with heart pounding. Or you may have drifted off into a complete state of relaxation.

How do your dreams affect your life? They may include people in your life, present or past. They may include places you have or have not visited. And they can include your deepest fears or secrets. Yes, oftentimes the mind becomes an open book in your dream world.

Scripture has a lot to say about the way we are supposed to walk and talk, not just in a physical sense, but in a spiritual sense as well.

As Christians, we are expected to live a different lifestyle than that of the world. Our actions and reactions are distinctly different from the worldly crowd. We should walk in the truths of God's Word (3 John 1:3-4). And we should talk the truth of God. (James 3: 5-6, 8-9)

Consider the phrase, "Walking the Walk and Talking the Talk." We are in essence saying that we are actually walking and talking in God's Holy Spirit, for He teaches (John 14:26), He guides (Romans 8:14), He commissions (Acts 13:4), He commands (Acts 8:29), He restrains (Gen. 6:3), He intercedes (Matt. 12:31), and He speaks (John 15:26),

Thus, we should always be ready to display these traits of the Spirit with reverence (Psalm 51:11) by "Walking" and "Talking" in Him. Amen!