We Grow 'Em Big In Texas!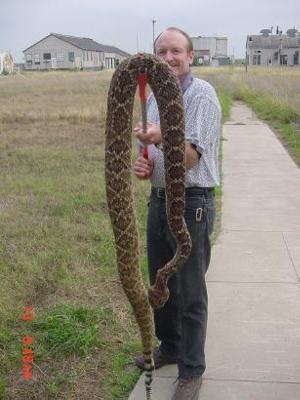 Texas Snake!
Beau Elrod made a startling discovery on a local golf course in Cleburne TX . on Monday. While searching for golf balls, a weekly endeavor for Beau, on Cleburne's City Golf Course, Beau thought he had stepped on a rotten fallen tree limb. "It kind of mushed under my boot and I didn't think much of it, til it began to move."

The huge reptile revealed itself from beneath the ground cover yielding an Western Diamond Back Rattler that is believed to be the largest of its kind ever discovered in the United States . Weighing in at a 97 lbs and 9 feet, 1 inch - it is the biggest rattler found since Ross Allen captured one in 1969 that measured 9 feet, 1 inch but only weighed 76 lbs.

Beau is awaiting the final results on his record setting capture from the North Texas Game Wardens office. The Game Wardens office spent some time Monday afternoon surveying the area with moderate concern for the existence of additional Diamond Backs of this size.

A bite sustained from a snake of this size could be fatal due to the large amount of venom this animal produces. The discovery was made in a creek bed that runs between the 14th and 15th holes on Cleburne's City Golf Course. When contacted, Cleburne's Golf Club declined to comment.