WERE IT NOT FOR CALVARY'S SCARS
by Charles Robey
(Trussville AL)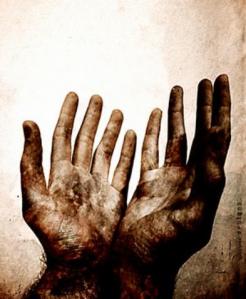 Were it not for Calvary's scars
Sin would not be washed away
Free grace would not be today
Were it not for Calvary's scars
Evil would have won the war
God's plan would be no more
Were it not for Calvary's scars
Life would not be worth the test
We no longer would be blessed
Were it not for Calvary's scars
Angels could have set Him free
But He suffered for you and me
Were it not for Calvary's scars
Your faith in Him would be dead
No more by the Spirit to be lead
Were it not for Calvary's scars

Then cometh Jesus with them unto a place called Gethsemane, and saith unto the disciples, Sit ye here, while I go and pray yonder. And he took with him Peter and the two sons of Zebedee, and began to be sorrowful and very heavy. Then saith he unto them, My soul is exceeding sorrowful, even unto death: tarry ye here, and watch with me. (Matthew 26:36-38)

And while he yet spake, lo, Judas, one of the twelve, came, and with him a great multitude with swords and staves, from the chief priests and elders of the people. Now he that betrayed him gave them a sign, saying, Whomsoever I shall kiss, that same is he: hold him fast.(Matthew 26:47-48)

And, behold, one of them which were with Jesus stretched out his hand, and drew his sword, and struck a servant of the high priest's, and smote off his ear. Then said Jesus unto him, Put up again thy sword into his place: for all they that take the sword shall perish with the sword.(Matthew 26:51-52)

Thinkest thou that I cannot now pray to my Father, and he shall presently give me more than twelve legions of angels? (Matthew 26:53)

But how then shall the scriptures be fulfilled, that thus it must be? (Matthew 26:54)

Yes, He could have called 10,000 angels to set Him free but he died alone for you and me. He freely bore the scars of sin, to set us free. What about you, neighbor? Did He die in vain? Or, will you now except His free grace, by simply having faith in the finished work at Calvary's cross?