WHAT ABOUT YOU BELOVED?
by Charles Robey
(Trussville AL, USA)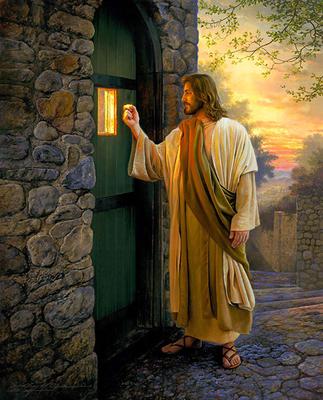 May I Come In, Please!
'Behold, I stand at the door and knock; if anyone hears My voice and opens the door, I will come in to him and will dine with him, and he with Me". (Revelation 3:20)


Scripture tells of God guiding His people through all kinds of circumstances: (Isaiah 40:11)

Leading Israel through the wilderness (Exodus 13:21).
Guiding Lot and family (Genesis 19:6)
Getting Peter out of jail (Acts 12:7)
And the Apostle Paul, so many times (2 Cor 2:23-33)

23 Are they servants of Christ? (I am out of my mind to talk like this.) I am more. I have worked much harder, been in prison more frequently, been flogged more severely, and been exposed to death again and again. 24 Five times I received from the Jews the forty lashes minus one. 25 Three times I was beaten with rods, once I was pelted with stones, three times I was shipwrecked, I spent a night and a day in the open sea, 26 I have been constantly on the move. I have been in danger from rivers, in danger from bandits, in danger from my fellow Jews, in danger from Gentiles; in danger in the city, in danger in the country, in danger at sea; and in danger from false believers. 27 I have labored and toiled and have often gone without sleep; I have known hunger and thirst and have often gone without food; I have been cold and naked. 28 Besides everything else, I face daily the pressure of my concern for all the churches. 29 Who is weak, and I do not feel weak? Who is led into sin, and I do not inwardly burn?
30 If I must boast, I will boast of the things that show my weakness. 31 The God and Father of the Lord Jesus, who is to be praised forever, knows that I am not lying. 32 In Damascus the governor under King Aretas had the city of the Damascenes guarded in order to arrest me. 33 But
I was lowered in a basket from a window in the wall and slipped through his hands.(2 Cor 11:23-33)
Yet with all of these instances of God leading in Scripture, the prayers for guidance and direction are relatively few. Nowhere in the Bible, do we see any description of a step-by-step process by which we can determine God's will. Why is this?
We are to depend on our relationship with him (Isaiah 40:11).
We are to pray continually (1 Thess 5:17)
We are to give full dependence on Him (Isaiah 30:15).
We are to place our hope in Him (Psalm 25:1, 4-5).
Although, God surely wants us to draw closer to Him by:
Not wanting us to miss the way (Psalm 5:7-8).
Showing us the right path (Psalm 25:1, 3-5).
Teaching us how to live with our enemies (Psalm 27:11,13).
Sending light to guide us (Psalm 43:3-4).
Showing us the way to safety 9Psalm 61:1-4).
Sending us a sign of His favor (Psalm 86:15-17).
Letting us see how He works (Psalm 90:13-17).
Showing us the way out (Psalm 142:1-3).
Showing us He knows the way (Psalm 142:1-3
Guiding our steps by His word (Psalm 119:129-136)
When I get to "Glory", the first person I want to look up is "Brother Paul". Then comes "Brother Peter, for Peter is so much like me, so impatient. And lastly, I want to ask "Judas" why he did what he did? What about you, beloved, how will you act, when you come face to face with your Savior and Lord? Remember the favorite Praise and Worship song "I Can Only Imagine" by "Mercy Me". Well, those lyrics certainly fit me. How will I act, when I come face-to-face with my master?
Some prayer starters:
Show me your presence, Lord (Exodus 33:18).
Speak to me, Lord (1 Samuel 3:9).
I keep praying, Lord (Psalm 69:13).
Please save me, Lord (Psalm 118:25).
Show me how to have more faith, Lord (Luke 17:5).
What shall I do, Lord (Acts 22:10).
BLESSINGS TO ALL (http://ccrobey.wix.com/themessage)