WHEN SLEEP FALLS
by Charles (Chuck) Robey
(Trussville, AL USA)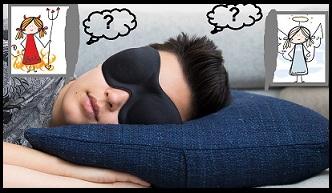 "In a dream, a vision of the night,
When sound sleep falls on men,
While they slumber in their beds,
Then He opens the ears of men,
And seals their instruction,
That He may turn man aside from his conduct,
And keep man from pride;
He keeps back his soul from the pit,
And his life from passing over into Sheol."
(Job 33:15-18)

I'm just plum tuckered out. Seems as if these high school civics students are getting the best of this tired old teacher. Yes, I know this old world's demographics have vastly changed, but why this sudden progressive bent of society is beyond me.

Maybe it's just as our pastor's messages have been pointing out lately. We may just be living in the last days, as we know them to be. For his Scripture references are right on. Has our social environment actually changed into that of apostasy, as predicted? (II Timothy 3:1-9, 13) (II Timothy 4:3-4). And are we, as a people, now in a state of mockery and contempt for God's holy Word? (II Peter 3:3-4)

Anyway, enough of bringing home my classroom woes. I'm going to bed. Good night, my love. See you in the morning.

But it didn't end with restful sleep. I was suddenly taken back in time, back to my youthful days. It was easy to determine the time element, as I found myself back in my old home place. The old home place looked the same. And the strange point of it all was my age hadn't changed. I found myself as a grown up there in my old home of my youth.

Apparently being tired from my journey back home, I slumped down in my Dad's old recliner, which was still held together by duct tape, to get a bit of rest. I didn't get much rest however, for I was abruptly awakened from my rest by a loud knocking on the door.

There standing by my front door was a rather large, nicely-dressed young man, wearing an official policeman's uniform. This officer had what appeared to be some sort of legal paper.

Without another word, this young man began to read from the legal document.

"Please be advised, the Department of Health has received word that this household is now supporting the killing of unborn babies, from the mother's womb to even those just prior to or at full term of birth."

"Also, be advised, that this inhuman procedure is considered to be murder, by both secular and spiritual law and the villains will be prosecuted to the fullest extent of the law. This ruling includes those who both participate or support such unlawful, murderous action of abortion. Signed in the year of our Lord 1955," he concluded.

"Wait just a minute, Sir. I know you are just doing your sworn duty. But abortions, of all kinds and types, are now legal in America," I responded.

I didn't get any reaction from this policeman, as he left the legal warning behind and suddenly disappeared in like manner as he had arrived. Oh well, back to my rest.

Then, it happened again. This time there were two police at my door, a lady and a man wearing the same type police uniforms.

"Oh well, here we go again, No rest for the weary. What may I do for you all?" I responded rather sarcastically.

Kind of strange, but these two police both had legal papers which they read in unison.

"Please be advised, the local Ministerial Association has received many complaints that this household has taken a stand for same-sex marriages, which is contrary to the rules of the Ministerial Association, and also in violation of our city code."

"If this practice of same sex marriage continues to be supported in this household, either by participating or in support of such an event, this household will not only be banned from church, but will be prosecuted for perversion," they chorused.

As it was with the first policeman's sudden leaving, these police had the same sudden exit. However, in leaving, they left behind an envelope containing a blank Marriage Certificate dated 1955 to be jointly and specifically completed by both the man and woman in marriage. That particular aspect really upset me to no end. Especially, as same sex marriages are now legal.

And you guessed it, another such caller. This time, instead of the accustomed police, this gentleman introduced himself as a representative of the city's mayor. His legal paper seemed even more official, as it showed an official big gold seal.

He then began to read. "Our city has had numerous complaints of this household not allowing the reading of the Bible and praying at the various public and private gatherings and at such occasions as in the schools, at the football games, at the city council meetings."

"This unlawful practice must stop forthwith. It is in violation of both Scripture and our country's constitution. Signed by the mayor, 1955, " he ended.

Ok that does it. I'll not respond to another doorbell ringer.

Oh no, here it goes again. I'll just not answer the door this time. And I did not. Nonetheless, it didn't much matter. For this notice was officially delivered by the local post office. I found a registered letter in my mailbox, dated 1955, which was an official notice condemning the taking of an anti-Israel stand. The notice concluded by warning legal action, up to and including jail time, for my household not supporting God's promised people Israel.

In fact, I was so upset this time, that I could hardly retain my composure. Rest was completely out of the question. Nonetheless, I burned this legal notice as it was no longer against the law to oppose the state of Israel. Nor was it politically correct to pay homage to the Jewish people.

I was physically drained from all these strange visitors and the legal notices so I just couldn't continue my rest. I decided to go rob the refrigerator.

When I walked into the kitchen, another strange occurrence happened. There was a strange individual sitting at the table, apparently reading from our large family Bible. In fact, I was so upset, that I could hardly retain my composure.

Then he spoke. "I see you may be frustrated, my son, from all the unexpected company."

"Yes I am, kind sir, whomever you may be. In fact, I was so upset, that I can hardly retain my composure. Rest is completely out of the question," I replied. "It was all those so-called officers of the law, challenging me with all those obsolete laws."

That's when this strange person opened his Bible and began his religious lecturing.

"You see, my son, the Bible never changes, nor does God Himself. All these new modern day law interpretations are not only contrary to God's Word, but they oppose America's Constitution. You should know this, my son, being a high school civics teacher."

"Let me just give you some Bible references, as a back-up to my talking. With respect to abortion, the killing of unborn babies: God has made all mankind in His own image, both the born and the unborn, (Genesis 1:26-27). And some additional verses.(Psalm 8:5-7) (Psalm 13:9) (Psalm 22:60) (Psalm 127:3-5) (Jeremiah 1:5)(Job 31:15) (Isaiah 49:15)"

"As opposing same sex marriage, the Bible's answer is in (Genesis 2:24) (Leviticus 18:22) (Leviticus 20:13) (Matthew 19:4-6) Mark 10:6-9) (1 Corinthians 7:2) (1 Corinthians 6:9-11, 17-20)"

"As respecting the Bible and prayer in public and private, the Bible also tells us the truth in (Ephesians 6:18) (I Thessalonians 5:6-18) (I Timothy 4:13) (James 5:16) (II Chronicles 7:14) (Psalm 145:18) (Psalm 55:17)."

"And respecting the state of Israel, I have but one all important verse. (Genesis 12:3)."

After giving these respective Scriptures, he closed our family Bible and knelt in prayer.

"Wow, there's no way I'll remember all those verses," I exclaimed softly, as I too knelt in prayer.

After a few minutes, I looked up and this kind gentleman was gone. Not only was he completely out of sight but so were all the surroundings. My old home place was gone and all else had vanished. I found myself lying in bed gazing out the window at the star-filled sky, and I was soaked in sweat.

Suddenly, as if divinely directed, I looked over and lying on my bedside table was our old family Bible. How it had gotten there, I'll never know, as this Bible was placed in Mom's grave.

Taking the Bible in hand, I noticed a piece of paper tucked between the Bible pages. Another divine miracle, for written down was the same Bible verses that had been quoted me early in my apparent dream, along with a personal note of encouragement, written in Mom's own hand.

You guessed it. My class plan of action was easily discovered that day. I just can't wait for next week's class to start. The Bible and our country's Constitution will be the main topics of study. Amen!

Author's Postscript

What about you? Do you believe in dreams? I realize Scripture is basically given for our edification. (II Timothy 3:16-17) However, dreams may not be beyond the realm of possibility. Don't ever sell them short.

"He will tell you things to come. He will glorify Me, for He will take of what is Mine and declare it to you" (John 16:13-14)

Strange enough, I dream quite often. Some I instantly forget, some seem to linger on with me, maybe because of my age. Anyway, may God bless you in all that you do.

You and I may be living in the last days, which means that these wonderful promises are for us all. Amen!

"And it shall come to pass in the last days, says God, that I will pour out of My Spirit on all flesh; your sons and your daughters shall prophesy, your young men shall see visions, your old men shall dream dreams." (Acts 2:17).