WHEN WE SURRENDER
by DELIA CANTU
(TEXAS)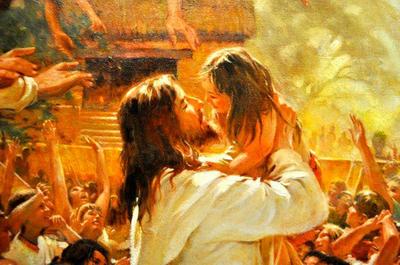 WHEN WE SURRENDER AND GIVE OUR ALL TO HIM
HE IS FAITHFUL TO GIVE US HIS ALL 4 HE IS LOVE
WHEN WE TRUST HIM, AND KNOW HIM!
LIKE HE KNOWS US THERE IS NEVER ANY FEAR
TO COME TO HIM AS WE ARE!

FOR HE IS THE HEALER OF THE BROKENHEARTED.
THE FATHER OF THE FATHERLESS
HE IS THE SAVIOR TO THE LOST
AND THE PEACE TO THE TROUBLED
HE IS RESTORATION TO THE BROKEN HEARTS,
AND A SAVIOR TO THE ONE WHO IS LOST,
HE IS THE ANSWER TO EVERY DAY LIFE
WHEN WE SURRENDER AND GIVE HIM OUR ALL

THERE IS NO FEAR IN HIM FOR PERFECT LOVE CASTS OUT ALL FEAR
THERE IS NO TEARS IN HIM FOR HE GIVES US JOY IN THE MORNING.
THERE IS NO PROVERTY FOR HE IS THE PROVIDER
WHEN HE IS LORD OF YOUR LIFE (LIKE KING DAVID SAID NEVER HAVE I SEEN THE RIGHTEOUS BEGGING FOR BREAD.) HE IS OUR DOCTOR WHEN WE NEED A HEALER HE IS ALL THAT WHEN NEED IN OUR LIFE
WHO RESTORES OUR EMOTIONS AND FEELINGS TO BE WHOLE.
WHEN WE BIND OUR MINDS TO THE MIND OF CHRIST

PERFECT PEACE WILL WE HAVE WHEN WE KEEP IT UPON HIM.
FOR HE IS THE ALPHA AND THE OMEGA
THE BEGINNING AND THE END WHO HAS ALREADY WON THE BATTLE! SO LET'S SURRENDER, AND GIVE HIM OUR ALL
FOR HE IS FAITHFUL TO GIVE US HIS ALL!
Join in and write your own page! It's easy to do. How? Simply click here to return to Your Poems.
© 2008-2028 - All rights reserved.

No content on preachology.com may be printed or

copied to any other site without permission.