When Will Jesus Come?
(Part Two)
by Dennis Michelson
(FaithBaptistOH.org)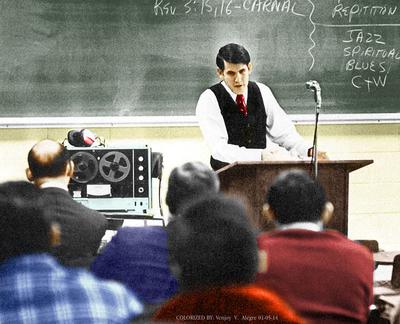 4. Jesus will return before the Jews as an entire people are restored to Palestine.


Only a portion of Jacob has been restored to this point in human history. The Messiah must be personally present for the entire nation to be returned to the land.

Mic 2:12 I will surely assemble, O Jacob, all of thee; I will surely gather the remnant of Israel; I will put them together as the sheep of Bozrah, as the flock in the midst of their fold: they shall make great noise by reason of the multitude of men.
Mic 2:13 The breaker is come up before them: they have broken up, and have passed through the gate, and are gone out by it: and their king shall pass before them, and the LORD on the head of them.

Isa 52:12 For ye shall not go out with haste, nor go by flight: for the LORD will go before you; and the God of Israel will be your rereward. (rear guard as in pillar of fire/cloud of Exodus)
Isa 66:19 And I will set a sign among them, and I will send those that escape of them unto the nations, to Tarshish, Pul, and Lud, that draw the bow, to Tubal, and Javan, to the isles afar off, that have not heard my fame, neither have seen my glory; and they shall declare my glory among the Gentiles.
Isa 66:20 And they shall bring all your brethren for an offering unto the LORD out of all nations upon horses, and in chariots, and in litters, and upon mules, and upon swift beasts, to my holy mountain Jerusalem, saith the LORD, as the children of Israel bring an offering in a clean vessel into the house of the LORD.

Rom 11:25 For I would not, brethren, that ye should be ignorant of this mystery, lest ye should be wise in your own conceits; that blindness in part is happened to Israel, until the fulness of the Gentiles be come in.
Rom 11:26 And so all Israel shall be saved: as it is written, There shall come out of Sion the Deliverer, and shall turn away ungodliness from Jacob:

Psa 102:12 But thou, O LORD, shalt endure for ever; and thy remembrance unto all generations.
Psa 102:13 Thou shalt arise, and have mercy upon Zion: for the time to favour her, yea, the set time, is come.
Psa 102:14 For thy servants take pleasure in her stones, and favour the dust thereof.
Psa 102:15 So the heathen shall fear the name of the LORD, and all the kings of the earth thy glory.
Psa 102:16 When the LORD shall build up Zion, he shall appear in his glory.
Psa 102:17 He will regard the prayer of the destitute, and not despise their prayer.
Psa 102:18 This shall be written for the generation to come: and the people which shall be created shall praise the LORD.
Psa 102:19 For he hath looked down from the height of his sanctuary; from heaven did the LORD behold the earth;
Psa 102:20 To hear the groaning of the prisoner; to loose those that are appointed to death;
Psa 102:21 To declare the name of the LORD in Zion, and his praise in Jerusalem;
Psa 102:22 When the people are gathered together, and the kingdoms, to serve the LORD

Zec 12:8 In that day shall the LORD defend the inhabitants of Jerusalem; and he that is feeble among them at that day shall be as David; and the house of David shall be as God, as the angel of the LORD before them.
Zec 12:9 And it shall come to pass in that day, that I will seek to destroy all the nations that come against Jerusalem.
Zec 12:10 And I will pour upon the house of David, and upon the inhabitants of Jerusalem, the spirit of grace and of supplications: and they shall look upon me whom they have
pierced, and they shall mourn for him, as one mourneth for his only son, and shall be in bitterness for him, as one that is in bitterness for his firstborn.
5. Jesus will return while the "little horn" of Daniel 7 is still in power.
Dan 7:19 Then I would know the truth of the fourth beast, which was diverse from all the others, exceeding dreadful, whose teeth were of iron, and his nails of brass; which devoured, brake in pieces, and stamped the residue with his feet;
Dan 7:20 And of the ten horns that were in his head, and of the other which came up, and before whom three fell; even of that horn that had eyes, and a mouth that spake very great things, whose look was more stout than his fellows.
Dan 7:21 I beheld, and the same horn made war with the saints, and prevailed against them;
Dan 7:22 Until the Ancient of days came, and judgment was given to the saints of the most High; and the time came that the saints possessed the kingdom.
Dan 7:23 Thus he said, The fourth beast shall be the fourth kingdom upon earth, which shall be diverse from all kingdoms, and shall devour the whole earth, and shall tread it down, and break it in pieces.
Dan 7:24 And the ten horns out of this kingdom are ten kings that shall arise: and another shall rise after them; and he shall be diverse from the first, and he shall subdue three kings.
Dan 7:25 And he shall speak great words against the most High, and shall wear out the saints of the most High, and think to change times and laws: and they shall be given into his hand until a time and times and the dividing of time.
2Th 2:3 Let no man deceive you by any means: for that day shall not come, except there come a falling away first, and that man of sin be revealed, the son of perdition;
2Th 2:4 Who opposeth and exalteth himself above all that is called God, or that is worshipped; so that he as God sitteth in the temple of God, shewing himself that he is God.
6. Jesus will return when many who claim to know Him have fallen into spiritual slumber.
Mat 25:5 While the bridegroom tarried, they all slumbered and slept.
Mat 25:6 And at midnight there was a cry made, Behold, the bridegroom cometh; go ye out to meet him.
Rev 16:15 Behold, I come as a thief. Blessed is he that watcheth, and keepeth his garments, lest he walk naked, and they see his shame.
7. Jesus will return when few will believe His return is near.
Luk 18:8 I tell you that he will avenge them speedily. Nevertheless when the Son of man cometh, shall he find faith on the earth?
Mat 24:42 Watch therefore: for ye know not what hour your Lord doth come.
Mat 24:43 But know this, that if the goodman of the house had known in what watch the thief would come, he would have watched, and would not have suffered his house to be broken up.
Mat 24:44 Therefore be ye also ready: for in such an hour as ye think not the Son of man cometh.
Mat 24:37 But as the days of Noe were, so shall also the coming of the Son of man be.
Mat 24:38 For as in the days that were before the flood they were eating and drinking, marrying and giving in marriage, until the day that Noe entered into the ark,
Mat 24:39 And knew not until the flood came, and took them all away; so shall also the coming of the Son of man be.
Observation One: No Thousand Years of peace and righteousness prior to Christ's Coming
Observation Two: We need to look for no other time for Christ's Coming than the times in which we live.