WHERE IS GOD IN ALL THIS WEATHER CHAOS
by CharlesRobey
(Trussville, AL USA)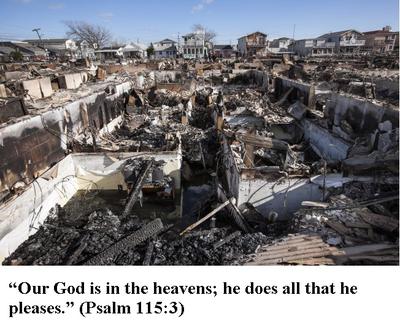 It seems as if America is seeing natural disaster the likes of which she has never before seen. Like the majority of the America populace, I am wondering about God's position in all this chaos. I realize Scripture is clear with respect to Satan's position.(Ephesians 6:11-12) However, I am also very sure that God's sovereign power is in control of all things of this world. Nothing happens unless God allows it.(Daniel 2:19-23)


So I decided to search the internet and ask the experts, both religious and secular. I was not surprised to find numerous opinions on the subject, from all manner of sources. I also found a number of judgment attitudes and estimations.

One of the best opinions, I felt was registered by Billy Graham's website, which I will share below.

Question
Are natural disasters sometimes an instrument of God's judgment? I've wondered sometimes if God was trying to speak to us when these things happen.

Answer
Yes, God certainly can use natural disasters to speak to us, just as He can use other difficulties and tragedies to turn our hearts toward Him.

What can such events tell us? For one thing, they remind us of the brevity of life. We may be strong and successful, and assume life is always going to be that way— but when disaster strikes, we realize this isn't true. We can lose everything in only a few seconds, and perhaps for the first time, we are brought face to face with the reality of death—and our need of God. Isaiah wrote, "Surely it was for my benefit that I suffered such anguish. In your love you kept me from the pit of destruction" (Isaiah 38:17).

Disasters also can remind us of our need to help others, and not just be concerned about ourselves and our problems. Not long after Hurricane Katrina devastated large parts of New Orleans, my son Franklin and I visited the affected area. I will never forget the way that disaster brought people from different backgrounds together, especially in the churches. The Bible says, "Carry each other's burdens, and in this way, you will fulfill the law of Christ" (Galatians 6:2).

We don't necessarily know why God allows natural disasters to occur; sometimes Satan seems to have a hand in them. But the time to prepare for life's crises is now, not when they strike. Is your faith and trust in Christ, and are you seeking to
live for Him every day, no matter what happens?
Now, what's your answer, to this age-old question? For starters please check our America's actions, actions that are contrary to God's laws and principles.
Check out the judicial decisions at all levels of government. Check out the social programs at all levels of society. And sad to say, check out the religious stance of many church denominations. Well, I have my own opinion, but I'll just leave the answer to these questions up to your private discretion. as well.
I'll just leave you with this excerpt taken from my latest News Letter.
Please "PRAY" for the victims of these recent weather emergencies. Whatever happens, God is still in control.
God controls the skies and the rain (Psalm 77:16-19).
God controls the wind (Mark 4:35-41; Jeremiah 51:16).
God upholds and sustains the universe (Hebrews 1:3).
God has power over the clouds (Job 37:11-12, 16).
God has power over lightning (Psalm 18:14).
God has power over all nature (Job 26).
POSTSCRIPT
The following comment, given by my proof writer, is worthy of print.
Here it is. And I think you are absolutely correct. God allows weather events in order to turn mankind back to Him. As we see in the Old Testament, it didn't always work, as the Israelites would turn to false gods to try to get relief from droughts and such.
I also think the extreme weather events and sudden appearance of earthquakes and volcano eruptions are signaling the beginning of the end of all things.
Luke 21:11 "and there will be great earthquakes, and in various places plagues and famines; and there will be terrors and great signs from heaven."
Luke 21:25 "There will be signs in sun and moon and stars, and on the earth dismay among nations, in perplexity at the roaring of the sea and the waves,
Mark 13:8 "For nation will rise up against nation, and kingdom against kingdom; there will be earthquakes in various places; there will also be famines. These things are merely the beginning of birth pangs."
Jesus said these things would happen, so it should come as no surprise when they actually occur. I only wish these events would wake up the church (not our church, but dead or sleeping or heretical ones) and cause her to turn back to her Bridegroom and prepare for His return. I'm thinking it won't be long now before He comes for us.