Where is Jesus? Part 1
by John Lowe
(Laurens SC, USA)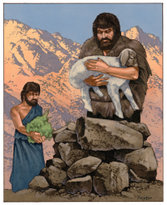 February 9, 2003


Title: Where is Jesus?

Text: "So then, after the Lord had spoken to them, He was received up into heaven, and sat down at the right hand of God" (Mark 16:19).

Scripture Reading: Mark 16:14-20

If you have a Bible, turn with me to Mark 16, and let's read verses 14-20.

14 Later He appeared to the eleven as they sat at the table; and He rebuked their unbelief and hardness of heart because they did not believe those who had seen Him after He had risen.
15 And He said to them, "Go into all the world and preach the gospel to every creature.
16 He who believes and is baptized will be saved; but he who does not believe will be condemned.
17 And these signs will follow those who believe: In My name they will cast out demons; they will speak with new tongues;
18 they will take up serpents; and if they drink anything deadly, it will by no means hurt them; they will lay hands on the sick, and they will recover."
19 So then, after the Lord had spoken to them, He was received up into heaven and sat down at the right hand of God.
20 And they went out and preached everywhere, the Lord working with them and confirming the word through the accompanying signs. Amen.

Today's church desperately needs new life; it needs to be rejuvenated and it needs to be made eager to tell the world about Jesus.
The hope of the church is Christ Himself, and He is the only one who can fix His church.
But the basic question that I want to ask you is, "Where is Jesus?"
When we find the answer to this question, it will enable us to praise Jesus Christ for His position now in God's eternal plan.
If we were detectives, looking for Jesus, we would return to the place where He was last seen.
The very last words He spoke were to His disciples just before He ascended into heaven, which according to Luke happened near the town of Bethany.
Bethany was about two miles from Jerusalem on the Mount of Olives, and it was the home of Jesus' friends; Mary, Martha, and Lazarus.
This is how the ascension is described in Mark, Luke, and Acts.
Mark 16:19 says, "So then after the Lord had spoken to them, He was received up into heaven, and sat down at the right hand of God."
Luke 24:50-51 says, "And He led them out as far as Bethany, and He lifted up His hands and blessed them. Now it came to pass, while He blessed them, that He was parted from them and carried up into heaven."
Acts 1:9-11 describes this scene again: "Now when He had spoken these things, while they watched, He was taken up, and a cloud received Him out of their sight. And while they looked steadfastly toward heaven as He went up, behold, two men stood by them in white apparel, who also said, "Men of Galilee, why do you stand gazing up into heaven?

This same Jesus, who was taken up from you into heaven, will so come in like manner as you saw Him go into heaven."
We need to answer two questions today:
1. Where is Jesus?
2. What is Jesus doing?

Pray for a lesson.
The first question is where is Jesus?
The answer is, "He is home."
Jesus' ascension was His homecoming.
He was coming home to His Father in heaven.
When He was on earth He was 100% God, but when he left heaven he had laid aside His glory.
Through His ascension, the glory that He possessed before the creation of the world was restored.
John 17:5 says, "And now, O Father, glorify Me together with Yourself, with the glory which I had with You before the world was."

Jesus longed to be there; to be with the Father.
In a parable in Matthew, He compared Himself with a landowner who traveled to a far country and later returned to reward His servants (Matt. 21:33).
In John He
talked about being "lifted up" (John 12:32), He said that when He was lifted up that He would draw people to Himself; and He talked about preparing a place for us (John 14:3) and that would be our heavenly home; and He announced, "I go unto my Father" (John 14:12, 28; see also 16:5, 7), referring to His ascension.
He was beginning to prepare His disciples for the time that He must leave them; when He would ascend back to the Father.
And today Jesus is not only home, He is exalted to the Father's right hand.
Mark 16:19 says that Jesus, "sat down at the right hand of God."
In Acts 2:33 Peter proclaimed that Jesus is "by the right hand of God exalted."
In Philippians 2:9-11 Paul concludes, "Therefore God also has highly exalted Him and given Him the name which is above every name…"
The supreme purpose of God the Father in the universe today is that Jesus Christ be glorified in the universe which he created and that He be glorified on the earth where man dwells.
These are powerful scriptures.
However, Ephesians 1:19-23 even more fully describes where Jesus is and what that means.
He is at the Father's right hand, "far above all principality and power and might and dominion, and every name that is named."
This passage describes Jesus' victory.
His work on earth is finished.
He has done all the Father told Him to do.
He triumphed over Satan, sin, the world, the flesh, and death.
Remember, when He was on the cross He said, "It is finished."
Jesus' position at the Father's right hand describes His authority and sovereignty at this moment.
He is Lord of heaven and earth, the highest authority of all.
Jesus' position in heaven is also a position of ministry.
What is He doing is the second important question?
What kind of ministry is Jesus doing today?
First, Jesus is drawing people.
According to John 12:32, Jesus is drawing all people to Himself.
He said, "And I, if I am lifted up from the earth, will draw all people to Myself."
His death will draw all men unto Him.
Those who believe will be saved.
Those who reject Him will be lost.
Consider how important it is to lift up Jesus before men and women.
There are multitudes passing by the church today who are not hearing the Word.
Think of the laborers, the students, the men in the uniform of our country, the white collar group, and the rich.
They do not hear.
Jesus, the crucified Lord, is not being lifted up in the churches today.
Friends, the gospel needs to be preached, and the gospel is about a Christ who was crucified.
What we are talking about is not my ministry or your ministry; rather it is His saving ministry.
He is the head, and He is using the Holy Spirit and He is using you and me to reach out to those who are lost.
Acts 4:12 says, "Nor is there salvation in any other, for there is no other name under heaven given among men by which we must be saved."
He is not dragging people; instead, He is magnetically drawing them.
He is doing this right now in the world through His Spirit, through His love, through His Word, and through His people.
From heaven, He is reaching down to people on earth and drawing them to Himself.
Second, Jesus is interceding for people.
He stands between us and the Father.
Romans 8:34 says, "…It is Christ who died, and furthermore is also risen, who is even at the right hand of God, who also makes intercession for us."
1 John 2:1-2 teaches that Jesus Christ is our advocate, our heavenly lawyer, our counselor.
He represents us before the Father.
Satan accuses us to the Father and he accuses the Father to us, but Jesus represents our case before the Father.
Did you pray for yourself this morning?
You should have, but if you forgot, don't worry, because Jesus didn't forget.
He prayed for you.
What hope and encouragement this is!