Where Is Jesus? Part 2
by John Lowe
(Laurens SC, USA)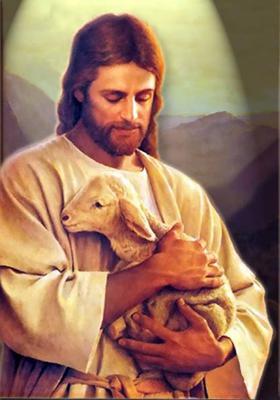 Third, Jesus is directing the church.

Ephesians 1:22-23 indicates that God "…put all things under His feet, and gave Him to be head over all things to the church, which is His body…."
Jesus is the head of the body; the head of the church.
And as the head, He leads the body; so Christ leads the church, and He is directing the ministry of the church.
In His role as head of the church, Jesus is doing two things.
First, Jesus is pouring out the gift of the Holy Spirit.
That's what it says in these two verses in Acts.
"Therefore being exalted to the right hand of God, and having received from the Father the promise of the Holy Spirit, He poured out this which you now see and hear" (Acts 2:33). And then it says, "Then Peter said to them, "Repent, and let every one of you be baptized in the name of Jesus Christ for the remission of sins; and you shall receive the gift of the Holy Spirit" (Acts 2:38).

Anyone who believes, who puts his trust in Jesus Christ, will receive the gift of the Holy Spirit.
Second, Jesus is imparting spiritual gifts to believers.
It says in Romans, "Having then gifts differing according to the grace that is given to us, let us use them…" (Rom. 12:6).
Each member of the body of Christ has a gift and a function to perform.
Your gift is part of the grace of God to you.
You are to use your gift and when you do, you have the power of the Holy Spirit to enable you to do it.
We are led by the Spirit to exercise our spiritual gifts toward other members of the church-all under Christ's direction.

Fourth, Jesus is building the church.
Jesus said in Matthew 16:18, "I will build My church."
The church is built upon Christ; He is the foundation.
"For no other foundation can anyone lay than that which is laid, which is Jesus Christ" (1 Cor. 3:11).
Acts 2:47 describes saved people as being added to the church, "…And the Lord added to the church daily those who were being saved."
Notice, it is the Lord who is adding to the church.
And Acts 6:7 reveals that the Lord is not satisfied with just adding to His church; He wants to multiply it.
That is His desire for the church today.
Acts 6:7 says, "Then the word of God spread, and the number of the disciples multiplied greatly in Jerusalem…"
Fifth, Jesus is preparing heaven for believers.
He is doing something in heaven.
John 14:2 says, "In My Father's house are many mansions; if it were not so, I would have told you. I go to prepare a place for you."

He is preparing a place for us in a heavenly home.
When our
home is ready, he will call us to heaven.
In fact, if we are alive at the Rapture, He will come and escort us to heaven.
Sixth, Jesus is sharing His power with us.
His desire for us is expressed in John 17:24: "Father, I desire that they also whom You gave Me may be with Me where I am, that they may behold My glory which You have given Me; for You loved Me before the foundation of the world."
It will be heaven to be with him in perfect fellowship.
That was God's purpose for creating man.
There are other creatures on earth, but God made man a creature with which He could have fellowship.
God created man with a free will; and, even though man sinned, God wants his fellowship.
Heaven is going to be wonderful and it is important that every one of His sheep is there with Him.
The reality of His desire to have us with Him is expressed in Ephesians 2:5-6, where it says we are made to sit with Him in heaven, and in Romans 8:28-30, where it says we are glorified in His likeness!
And in Ephesians 1:19-22 we are told that not only Jesus has power, but we also are given power.
Today, we don't hear much about the ascension in our churches; we emphasize Christmas and Easter, but we seem to forget the events after that.
Have you ever stopped to think of the power that took Jesus back to the right hand of God?
That, my friends, is power.
We are beginning to see a little of it.
Think of the destructive power of a hydrogen bomb and the power that it takes to lift a rocket off its pad and into space.
That is power in the physical realm.
The power that took Christ to the right hand of God is the same power that is available to believers today.
That is why Paul writes that believers may know the greatness of that power.
He writes, "That I may know Him, and the power of His resurrection…" (Phil. 3:10).
His victory is our victory!
"As He is, so are we in this world" (1John 4:17).
In other words, we are just like the Lord Jesus.
He was raised from the dead and He has life.
Well, we have that life too, and He is up yonder at God's right hand for us.
We are in Christ and we are accepted in the Beloved.
All that Jesus has, we share with Him.
His new position and ministry in heaven are our new position and ministry on earth!
Christ's position in the heavenly realms is the basis of knowing victory in our Christian life.
We are in Him.
We are identified with Him.
This means victory over the world and every circumstance.
Close in prayer.