WHO ARE WE THE PEOPLE
by CharlesRobey
(Trussville, AL USA)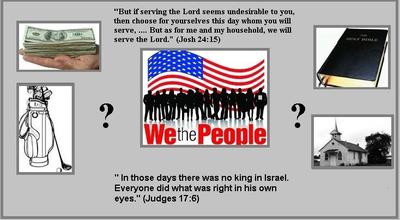 We may be that red, yellow, black and white, Who are all so precious in His sight

We may be that doctor, lawyer, Indian chief, Or maybe just the one who is a thief
We may be that neighbor across the street, And everyone else we may just meet
We may be that one from a far-off foreign land, Taking that important legal stand
We may be that soldier fighting across the sea, Fighting daily just to keep us all free
We may be that young couple walking the aisle, Giving both parents that big smile
We may be that one who is just a big blow, And for the country is always a no-show
We may be that one with a sign to work for food, Who is never in a working mood
We may be that poor kid on the city block, Just wishing for a brand new sock
We may be that young one going out to play, Just to enjoy another peaceful day
We may be that senior with the flowing hair so gray, Enjoying just having it their way
We may be that one looking back in time, Hopefully, to still be in their prime
We may be that sick one just sitting all alone, Suffering from pain far away from home
We may be that church member they greet, When we all meet out on the street
We may be that one who can well afford, That bright and shiny brand-new Ford
We may be that Mom sitting at home so bored, Hoping for jewelry she can ill afford
We may be that one who never takes a stand, While traveling through this great land
We may be that young lad seeking a degree, Begging the parents for more money
And most of all we may just be plain ole me, Writing this poem for all to see
WHO ARE WE THE PEOPLE?

"And sang the song of God's servant Moses and of the Lamb: "Great and marvelous are your deeds, Lord God Almighty. Just and true are your ways, King of the nations. Who will not fear you, Lord, and bring glory to your name? For you alone are holy. All nations will come and worship before you,
for your righteous acts have been revealed." (Rev 15:3-4)
Do you ever wonder just who "We the people are"? Who qualifies for basic human rights? What is required to be able to speak or worship freely or to be free from torture? Basically, it's all found within the confines of the Bible and the Constitution of the United States. Have you read these document? If not, I would certainly encourage you to do so.
EXCERPTS FROM THE BIBLE
"Thy word have I hid in mine heart, that I might not sin against thee."(Psalm 119:11)
All Scripture is God-breathed and is useful for teaching, rebuking, correcting and training in righteousness," (II Tim 3:16)
EXCERPTS FROM THE DECLARATION OF INDEPENDENCE
"We hold these truths to be self-evident, that all men are created equal, that they are endowed by their Creator with certain unalienable rights, that among these are Life, Liberty and the pursuit of Happiness."
"We, therefore, the Representatives of the United States of America, in General Congress, Assembled, appealing to the Supreme Judge of the world for the rectitude of our intentions ... do publish and declare, ...
Our founding fathers were very explicit, with respect of the Bible, and in the incorporation and inclusion of our Creator God's, principles in the founding documents.
So who are "We The People"? Simply put, we are a hodgepodge of many ethnic groups and nationalities, bound together and enjoying the freedoms of this great country of ours. It's the "Land of the Free" and "Home of the Brave," you know.
Nowadays, I am so amused when I watch the TV commercial where the young man takes a DNA test, only to find his heritage to be wrong, thus causing him to change his attire. What differences does it make, for we are all made in the image of our Heavenly Father? (Genesis 1:26-27)
So the framers of our great American Constitution combined the best political ideas of the past with innovations in what The Federalist called an improved science of politics: federalism, separation of powers, and checks and balances. Doing so, they created a form of government which had, in the words of James Madison, "no model on the face of the earth." (Larry P. Arnn, President, Hillsdale College)