Who Can Enter the Kingdom of Heaven? Part 1
by John Lowe
(Laurens SC, USA)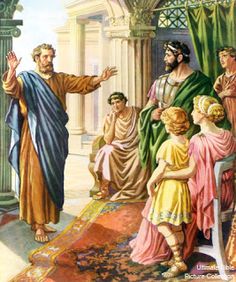 The Kingdom of Heaven is a wonderful place.
Title: Who Can Enter the Kingdom of Heaven?


June 23, 2013

Kingdom of Heaven Series-Lesson #6

Title: Who Can Enter the Kingdom of Heaven?

Text: Matthew 7:15-29

For six weeks now we have been discussing a wonderful place called the Kingdom of God.
But, as we have discovered, this Kingdom is more than just a place; it is a lifestyle, a mindset, and a way of living.
Being a citizen of the Kingdom of God is the most important decision anyone will ever make in their life.
However, along with citizenship comes responsibility.
For example, we are all citizens of the United States, and as such we are expected to obey the laws, and pay our taxes.
As citizens of the Kingdom of God, God expects us to do certain things, too; things like—Embody Christ's name, Embrace His mission, and Obey His Word.
I have talked about these three before, and I said for a person to be truly happy and in the right relationship with the Father, we must accept these responsibilities.
The Kingdom of Heaven is a wonderful place.
It is a place where we can experience the full riches of God's grace and mercy.
It is a place where we hope to live eternally someday.
But may I suggest to you that the Kingdom of heaven is also a place in which we may reside today.
I know there's a kingdom of God coming in the future, but there is also a kingdom of God in the present.
It is a kingdom in which I can participate, right here and right now.
The Kingdom of God is present in the hearts of those who will be true believers in Jesus Christ.
But, the Kingdom of God is not something that everyone has access to at any time.
Instead, it is reserved for those who have made the intentional decision to follow in the steps of Jesus.
Those who enter the Kingdom of Heaven will be those who "do the will of God."
This is an extremely challenging thought for those of us who have been in the church for decades.
It causes us to ask, "Have I been faithful to the calling that I received?"
Was my decision to follow Christ more than an intellectual or emotional decision?
Did you know that it's possible to receive the blessings of God and not enter the Kingdom of Heaven?
And it is possible to perform miracles in God's name and not enter the Kingdom of Heaven.
It is also possible to work in the name of God and not enter the Kingdom of Heaven.
Friends, we must be cautious when dealing with the fate of our eternal souls.
We take it for granted that God will overlook our lack of commitment and our lack of work for Him.
But God is evaluating all our work and testing it to see whether it is pure or flawed.
The Kingdom of Heaven is not for everyone who states, "I belong to a certain church."
There are many people who are on the roles of a church, who are not residents of the Kingdom of Heaven.
This begs the question- "How do I know if I am a resident of the Kingdom of Heaven?" And "Who is it that can enter the Kingdom of Heaven?"
The question we are going to answer today is "How do you know if you have entered the Kingdom of God?"

I believe there are 8 characteristics that are present in a Kingdom of God person.

1. As a Kingdom of God person, you have confessed your sin. (1 John 1:8-10)
The scripture says—
"If we claim to be without sin, we deceive ourselves and the truth is not in us. If we confess our sins, he is faithful and just and will forgive us our sins and purify us from all unrighteousness. If we claim we have not sinned, we make him out to be a liar and his word has no place in our lives."
The word "confession" is a combination of two Greek words that mean "same," and "to say."
The word confession as it's used here, means, "to say the same thing" or "to agree."
Believers are called upon to say the same thing about sin that God says, and to see sin as God sees it.
When the believer confesses
his or her sins and professes faith in Christ, then God will faithfully and justly forgive those sins and cleanse them of all unrighteousness.
But, doesn't God know everything we do anyway?
So, why not acknowledge our sins, and ask for His forgiveness.
Confession is essential to any believer's relationship with God and to having fellowship with other people.
And the confession of sin goes hand-in-hand with the faith that saves us; a person who believes in Jesus and is truly sorry for their sins and confesses those sins immediately becomes a citizen of God's Kingdom.
2. You know that you've entered the Kingdom of God when you decided to obey Jesus' commands.
1 John 2:3-6 tells us, "We know that we have come to know him if we obey his commands. The man who says, "I know him," but does not do what he commands is a liar, and the truth is not in him. But if anyone obeys his word, God's love is truly made complete in him. This is how we know we are in him: Whoever claims to live in him must walk as Jesus did."
Here, John gives another true mark of those who are in the Christian fellowship.
This time it's obedience.
We can have assurance about our relationship with God if our life is characterized by a loving desire to do His will.
John describes the believer's obedience in a threefold way—keeping His commandments, keeping His word, and walking as He walked.
There's a definite progression in thought in these verses that goes like this.
To keep His commandments is to obey the teachings of the Lord Jesus as found in the New Testament.
To keep His word means not only obedience to what is written but a desire to do what we know would please Him.
To walk as He walked is the full expression of God's standard for His people; it means to live as Jesus lived.
John doesn't imply that the Christian life consists of faultless obedience to the will of God, but rather that the Christian usually desires to keep His commandments and to do those things that are pleasing in His sight.
John is looking at the overall manner of a person's life.
If someone says he knows God but doesn't keep His commandments, then it is clear that he is not telling the truth.
On the other hand, when we keep His word, then the love of God can be seen in us.
The love of God does not refer to our love for God, but rather to His love for us.
The thought is that God's love toward us has been brought to its goal when we keep His word.
Therefore, whoever says he abides in Him should live just as the Lord Jesus lived.
His life, as we read about it in the Gospels, is our pattern and guide for living in the world.
It's not a life which we can live in our own strength or energy, but it is possible to live it in the power of the Holy Spirit.
Our responsibility is to turn our lives over to Him unreservedly and allow Him to live His life in and through us.
3. You know you've entered the Kingdom of God when you have no hatred toward others.
The next two verses say that—
"Anyone who claims to be in the light but hates his brother is still in the darkness. Whoever loves his brother lives in the light, and there is nothing in him to make him stumble. But whoever hates his brother is in the darkness and walks around in the darkness; he does not know where he is going, because the darkness has blinded him."
Here we have the contrast between a love that is false and a love that is true.
If anyone claims to be a Christian and yet hates those who are truly Christians, it is a sure sign that they are still living in darkness.
It's not a case of backsliding; instead, the man continues to be what he always was, namely, unsaved.
On the other hand, the one who naturally loves his brother abides in the light.
It's true that if a Christian is really living in touch with the Lord, he is in the Kingdom of God and he will love other Christians.