"Who is on the Lord's Side?" Page 1 of 2 (series: Sermons)
by John Lowe
(Woodruff, S.C.)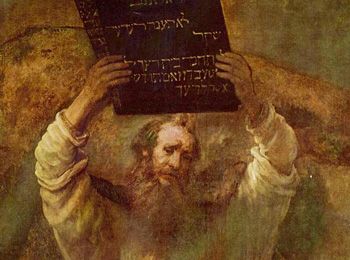 "All of you who are on the Lord's side, come over here and join me."
April 22, 2006

Title: Who is on the Lord's Side?

Scripture: he stood at the camp entrance and shouted, "All of you who are on the Lord's side, come over here and join me." And all the Levites came." Exodus 32:26—the Living Bible


Israel had rebelled against God, and set up the golden calf. Moses came down from the mountain bearing the stone tablets on which God wrote the Ten Commandments. In great anger, he broke the tablets and threw down their idol. It was his brother Aaron that he left in charge, and he rebuked him for allowing the people to so quickly turn their back on God and worship a dead idol.The people who were only moments before eating, drinking and doing immoral acts were now awe-struck by the presence of the servant of the Lord. Most went to their tents, but a few continued to carry-on without any self-control.

Moses felt that this great rebellion must be crushed and punished, so he called upon the faithful to come and stand with him, and the ones who answered the call were from the tribe of Levi. These men with unyielding loyalty, fulfilled their mission, and for this reason they were made priests of Israel for ever. Determination is something the Lord looks for in His servants, and when He sees it He'll reward it. We are told of how God rewarded the Levites in Deuteronomy 33:

8 Moses said this about the tribe of Levi: "O Lord, you have given the sacred lots to your faithful servants the Levites. You put them to the test at Massah and contended with them at the waters of Meribah.
9 The Levites obeyed your word and guarded your covenant. They were more loyal to you than to their parents, relatives, and children.
10 Now let them teach your regulations to Jacob; let them give your instructions to Israel. They will present incense before you and offer whole burnt offerings on the altar. (Deuteronomy 33:8-10, NLT

They had been faithful in the past and once again they're faithfulness was on display as they stood with Moses against those who worshipped the golden calf. All of us, men and women, ought to decide where we stand; with God or with Satan, because there is no neutral ground at this present time. Today, those who are undecided are in a conflict and under a curse.

THERE ARE FOUR PARTS TO TODAY'S LESSON, AND THE FIRST PART CONCERNS THE CONFLICT WE ARE INVOLVED IN AND WHICH SIDE IS GOD'S SIDE.

As I was growing up, everyone believed in God, at least I didn't know any atheists. They would not have been welcome where I lived, and I imagine it was the same for most of you. But things have changed; today Christians are the odd man in many groups.
Christians are apt to be made fun of in school and on the job.

It's not too bad in the United States yet, but in some other countries the persecution is severe. For example, becoming a Christian in many Muslim countries may result in persecution that leads to death.

Someone might ask, "Where does God stand in this conflict between good and evil? Why does He allow evil people to prosper while Christians suffer?" The Bible is very clear about this, so there shouldn't be any question about it.

They may laugh at God and His children today, but there will be no laughter at the Great White Throne when Jesus says "I never knew you," and He sends the unbelievers to the place prepared for the devil and his angels.

The Bible warns against unbelief, false philosophy and "modern thought." God is against the liberal churches that preach a feel good message that says only what people want to hear.

Jesus last words to His disciples, before He returned to heaven were to "take the gospel to the whole world." Man has not found a new way to get to heaven. It is, and always has been as Jesus said, "I am the way the truth and the life; no one can go to the Father except by me." Our Lord stands firmly behind the gospel and against superstition.

In our physical universe, the sun is always shining. We don't always see it, but the reason for that is that something has come between the sun and us. It's the same with the gospel. The light of the gospel is always shining. God is always seeking to shine into the hearts of men and women. But Satan puts various barriers between unbelievers and God. It may be the cloud of pride, or of rebellion, or of self-righteousness, or any one of a hundred other things. But all of these serve effectively to hinder the light of the gospel from shining in. Satan simply doesn't want men to be saved.

The great commandment that our Lord gave was to love God totally and completely and to love others as we love ourselves; it opposes the modern attitude of pleasing ones self. Today you hear, "If it feels good, do it."

Now, the Lord Jesus plainly states what's involved in being His disciple: three things; denial of self, cross-bearing, and following Him.
To deny self is not the same as self-denial; it means to yield to His control so completely that you don't desire to do anything that's outside of God's will for your life. To take up the cross means the willingness to endure shame, suffering, and perhaps martyrdom for His sake; to die to sin, self, and the world. To follow Him means to live as He lived with all that that involves of humility, poverty, compassion, love, grace, and every other godly virtue. That's called holiness and that's the side God is on.
God is against all sin and oppression. Now we know where God stands regarding the dreadful conflict that is going on today. But that brings us to the second part of the lesson:
WHO ARE THE LORD'S FRIENDS AND WHAT THEY MUST DO.
Moses reacted with rage when he saw the golden calf being worshiped and the people committing acts of sexual immorality. He ground the golden calf into powder, and scattered it on the water and made the people drink it.
When Moses asked Aaron what happened that led to them making the golden idol, Aaron gave an answer that to me is very funny. Actually, he lied about it by implying that the golden calf had come out of the fire rather mysteriously- he said, "We threw the gold in the fire and the golden calf walked out. Some of the people were still celebrating and out of control. When Moses called for loyal followers, the tribe of Levi responded and at Moses' command they proceeded to slay with the sword those who were "out of control." Even close relatives were not spared.
There is a comparison that can be made between this incident and Pentecost. Here, sin brought death to three thousand people. At Pentecost the gospel of grace brought salvation to 3,000 people. Sin can only lead to death, but grace brings new life.
The heroic loyalty of the Levitates may be why they were chosen to be the priestly tribe. When the killing was over "… Moses told the Levitates, 'Today you have ordained yourselves for the service of the Lord, for you obeyed him even though it meant killing your own sons and brothers; now he will give you a great blessing."' (Exodus 32:29, The Living Bible). We know that they made their allegiance to God known to everyone, because Moses said, 'Today you have ordained yourselves." The Lord's friends should come out and boldly declare their faith.
Today, Jesus is saying the same thing Moses did; "Who is on the Lord's side? Let him come unto me." Today we rally to the Lord's side when we openly join with a church, by boldly confessing our sins and asking for forgiveness, by openly declaring our faith, by not conforming to the world, and by conforming to Christ, our Lord.
When Paul took up a collection for the believers in Jerusalem he talked about the generosity of the Christians in Corinth. He said, "Best of all, they went beyond our highest hopes, for their first action was to dedicate themselves to the Lord and to us, for whatever directions God might give to them through us" (2 Cor. 8:5, The Living Bible).
Did you notice what they did first; they dedicated themselves to the Lord. The Lord's friends must do the same thing before undertaking any task for Him. They must be willing to be in a minority: one tribe against eleven, if need be. We can be victorious no matter what the odds, because God is for us, and Jesus is for us, and the Holy Spirit is for us.
Jesus promised us that we would never be alone. When we must defend ourselves, He will tell us what to do and what to say. Jesus' friends must become aggressive. We need to be more like the faithful Levitates and "Put every man his sword by his side.".
The Christian's sword is not steel; it's the Word of God. The Word is sharper than any two edge sword, and it cuts into the very soul to reveal sin and doubt.
It's so very important that we memorize scripture, and that we're ready to use it to boldly witness to those outside the kingdom of God. Those who sided with Moses were on God's side and against the worshipers of the golden calf.
They killed the ring-leaders and they did it impartially. They cut-down the best friends they had in the world, who were as dear to them as family; they did not spare anyone if they were idolaters. I pray that God will never ask any of us to do anything like that, but if He does we ought to obey. Our love for God should always overcome the regard we have for any other person.
The Levitates did what they were commanded to do for it says, "And the children of Levi did according to the word of Moses" (Exod. 32:28). God rewarded them for their faithfulness and I believe that when they appear before Christ on the day when all men will be judged they will hear the words, "Well done, good and faithful servant." Those are the words I want to hear.