WHO WAS THAT MASKED MAN?
by Charles Robey
(Trussville AL)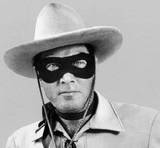 For what IS the hope of the hypocrite, though he hath gained the world, when God taketh away his soul?
Growing up in America, one of my fondest memories was tuning in the weekly Lone Ranger" radio broadcast. I'll never forget that famous introduction, as it would always send chill bumps down through my body. "A fiery horse with the speed of light, a cloud of dust and hearty "Hi Ho Silver. With his faithful Indian companion Tonto, the daring and resourceful masked rider of the plains, led the fight for law and order in the early west. Return with us now to those thrilling days of yesteryear. The Lone Ranger rides again."


I would then put on toy six shooters, adorn my mask and away I would go into the world of make believe, chasing those bad guys up and down the sidewalk

If you can think back, the Lone Ranger wore that mask because he was hiding his identity so that he could find out who killed his family. Apparently, his family was killed when he was a child, and he wore the mask so that he could find the killers without them knowing who he was.

Much like the Lone Ranger, we Christians some times hide our true Christian identity behind the mask of carnality, by allowing the nature of the flesh to take a strong hold of our lives. We want to reveal the true me, but are afraid we may not be able hold up under the stress of reality.

"Therefore come out from their midst and be separate, says the Lord. And do not touch what is unclean; And I will welcome you." (2 Corinthians 6:17)

What are some of those carnal masks? To this question, only you can answer. In God's word, we find a long laundry list of good and evil masks (Please read Galatians
5:19-23). So, just pick and choose, by shunning what is evil and clinging to what is good.
"abstain from every form of evil (1 Thessalonians 5:22).
Then, take off that mask of carnality, , that is hindering the Holy Spirit, from doing His perfect will in your life.
"For if anyone thinks he is something when he is nothing, he deceives himself' (Galatians 6:3).
There were times when the Lone Ranger would take off his mask and disguise himself, in order to trap the bad guys. However, this was not his true character. We, as Christians, should not remove our mask, until we are certain we are ready to stand firm, for the faith.
The Lone Ranger radio broadcast would always end with some unknown character asking, "Who was that mask man"? So, let us bring that statement home, by looking into our spiritual mirror and proclaiming our need to follow our Lord,
" Then I heard the voice of the Lord saying, "Whom shall I send and who will go for us" Then I said, "Here am I. Send me".(Isaiah 6:8)
Who am I in Christ? Let us take off that mask of carnality and reveal our true Christian identy, The Bible says that we are chosen by God and given a purpose.
"But you are a chosen people, a royal priesthood, a holy nation, a people belonging to God, that you may declare the praises of Him who called you out of darkness in to his wonderful light". (1 Peter 2:9)
Remember, it's very important that we see ourselves the way God sees us and then live in obedience to Him. There is an old song which states in part, "He knew me, yet He loved me." That is the absolute truth.
Amen