WILL THE REAL CHURCH PLEASE STAND UP
by Charles Robey
(Trussville AL)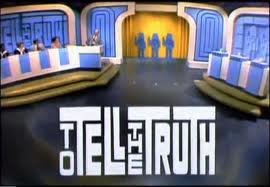 Remember the old TV show entitled , " To Tell The Truth, which aired in the 1950's. Will the real John Doe please stand up? That's the famous catchphrase associated with one of the most enduring games of all time, To Tell the Truth. That's where a team of celebrity panelists attempted to determine which of three contestants is the actual person associated with a story.


Now, in our 21th Century, " Will the real church please stand up".
"And he is the head of the body, the church. He is the beginning, the firstborn from the dead, that in everything he might be preeminent."( Colossians 1:18)

I am very concerned about the church. Not the physical structures but the " called out body of Christ'. Please read ( 1 Cor 12:12-31). ( 1 Cor 10:9-11 )

You see, a church is only as good, or as spiritual as its members. ( 1 Cor 3:16). With this said, I long for a church service, in which one may feel the presents of the Holy Spirit. A church service whereby the old time " praise and worship" hymns are sung. A church service where the scripture is "rightly divided" to the congregation. And most importantly, an invitation is open to one-and-all to come forth and kneel at an old fashion alter.

I crave hearing again those spontaneous testimonies given and having the "Amen's" and the "Hallelujah's" echoed, as the spirit led. And I surely miss those prayer session that would find individual throughout the sanctuary, kneeling by the pews.

So, what has happen to the church, or better still, to us believers ? It's all about love.( Philippians 1:9 ) The love of the Father towards us and the love for one another, in the church. I long for the "good old days" when we could just feel the genuine love the minute we walked into the church.

Maybe we should all go back and take a lesson from the first church of Jerusalem. There, love and Christian fellowship abound. Yes, they were all in one accord and praising God daily. ( Acts 2:41-46) And guess what, this church grew tremendously. ( Acts 2:47 )

As I see it, from my limited layman's point of view, at least three spiritual truths are now missing in our local churches, aside from the love previously mentioned.
Those being, the HOLY SPIRIT-OLD FASHION PREACHING-and SOUL WINNING.

Where is the outpouring of the Holy Spirit? ( Acts 2:1-13) Do we even know what it means anymore to feel the presence of the Spirit of God descend on a service and fill up the room with holiness? I can remember years ago feeling the Spirit's presence in
the service and seeing Mom just simply shed tears of joy as she would silently feel God's Holy Spirit. It's been so long since we have seen the real thing that we don't even know what it is anymore. Something is wrong!
What about those old-fashioned preachers who used to preach under the anointing of power, and relied not their stack of commentary notes, but on the power of God. Dad, bless his heart, sometimes was a little dry in his presentation but he preached the word.
And what has happened to the strong calls for repentance that brought many a soul down to the altar to repent and ask Christ Jesus to save their souls or rededicate to the gospel? You see, this is the bases for our salvation, the cross. ( 1 Cor 15:1-4 ) If the church is not winning souls, something is defiantly wrong.
Yes, something is truly missing in today's churches. We have become so overwhelmed with our social Gospel that we don't even realize what may be wrong.( Revelation 3:14-19 ) We may be like Gideon, threshing his wheat in secret by the winepress of God because our fields have been taken over by the enemy. ( Judges 6:11 )
Then, we ask, "What happened to the miracles our fathers talked about" ? Well, God is still on the throne and waiting for us, as a nation, and as a church body, to repent and turn back to the old time gospel. ( 1 Chronicles 7:14 )
Yes, God, our Heavenly Father loves us and nothing can separate us from this love. ( Romans 8:37-39 ) However, as born again believers, we must make a difference, a difference in the local church that is.( Hebrews 10:25 )
Just remember, the church is just simply people! This means you can make a difference. If you pray about it, maybe God will lay one of these issues on your heart for you to work to change, if it is a genuine concern within your church.
A last warning is needed. If the church is not a "New Testament' church ( Acts 2:42-47) and does not preach the "full gospel" ( 1 Cor 15:1-4 ), just move on. ( Romans 16:17-18 )
Authors Note:
I feel very strongly that we Christians should not to support or attend a church that is not true to the gospel.( Mark 13:21-23 ) I hope and pray that you feel the same way, as do I. And these convictions have prompted me to write about my beliefs. That's why I write.
Please visit my web site here and read the following articles.
THE CHURCH ICE AGE
THE CHURCH TRIUMPHANT
GOD BLESS YOU ALL-AMEN