Wounded for Our Transgressions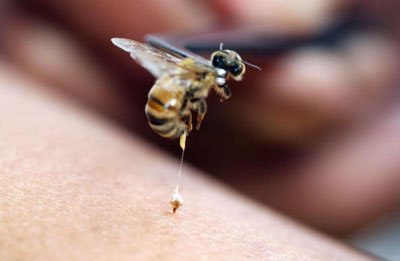 O death, where is thy sting?
A young man was asked when he first trusted in Christ and was saved. His answer was, "When the bee stung mother." When he was a little boy he was playing before the door, while his mother was working inside. Suddenly a bee came buzzing at the door, and he ran in to his mother, followed by the bee.

She hid him behind her. The bee fastened on her bare arm and stung her severely. She turned round, took her little boy, and showed him her arm. There was the place where she was stung, and there was the bee slowly crawling up her arm. "You need not fear the bee now, Willie, she said, "for it has no sting. It cannot hurt you. Its sting is here."

She showed her boy a black speck sticking in the wound. And then she took him on her knee, and told him how the sinner, pursued by God's broken law, by death whose sting is sin, could find no shelter save behind the cross of Christ; while in that spotless One who hung there was plunged the fatal sting.

To him was meted out the wrath, the stripes, the bruises, the wounds, which were the sinner's due, so that now all the sinner has to do is to look, and death is harmless, because all its sting has been exhausted in Christ.

All its dark waters are dried up in him, and nothing now remains but to bow in thankfulness and praise to the One who is mighty to save. "Christ also suffered sins once, the righteous for the unrighteous, that he might bring us to God."